LABORATORIES / LABORATUVARLAR
In addition to existing laboratories of Flexible Manufacturing Systems, Machining Tools and Processes and specially equipped rooms with computers for computer aided drawing and design; many laboratories such as Fluid Mechanics Laboratory, Thermal Sciences Laboratory, Computational Fluid Dynamics Laboratory, Thermal Power and Emission Laboratory, Internal Combustion Engines and Automotive Laboratory, Mechanics and Strength of Materials Laboratory; Mechanisms, Machine Dynamics, Mechanical Vibrations and Noise Control Laboratory, and Automatic Control Laboratory are under construction to serve the department.
---
FLEXIBLE MANUFACTORING LABORATORY / ESNEK İMALAT LABORATUVARI
Flexible Manufacturing Systems Laboratory (FMS Lab.) in Çankaya University Mechanical Engineering Department involves an FMS which is composed of a 5-axis industrial robot tending a CNC turning center and machining center. The system is supported by a material storage and feeding unit composed of a gravity feeder, pneumatic feeder, and a rack. The system is operated by the OpenCIM software installed on a central computer. In addition, CNCbase software installed on two computers, which control the turning and machining centers, enables standalone operation of the machines. The system is used in manufacturing related courses, where each student produces one part on each machine and learn how to operate the system without human intervention. Additionally the machining center is utilized in research projects, where precision machining is required.
Çankaya Üniversitesi Makine Mühendisliği Esnek İmalat Laborutuarı CNC işleme merkezi, torna ve bunları destekleyen 5 eksenli bir robottan oluşmaktadır. Sistem 2 tane hammadde depolama alanı ve bir tane bitmiş ürün depolama alanı ile desteklenmektedir. Sistem merkez bilgisayar üzerinde kurulu OpenCim yazılımı ile çalışmaktadır. Ayrıca, iki farklı bigisayar üzerinde kurulu programlarla ile torna ve freze ayrı ayrı olarak kullanılabilmektedir. Laborutuar imalat derslerinde kullanılmadır. Her öğrenci laborutuarda en az bir parça üretmektedir. Böylece öğrenci makinelere insan müdahalesi olmadan sistemi nasıl kullanabileceğini öğrenmektedir. Ayrıca sistemin işleme hassasiyeti araştırma projelerinde kullanılabilecek seviyededir.
---
MACHINE SHOP / MAKİNA ATELYESİ
Machine shop in Çankaya University Mechanical Engineering Department is equipped with one milling machine, one lathe, one drill press, one band-saw, one bench-top grinder, manual clamps and hand-held equipments including measurement devices. The machine shop is designed to serve for any research/educational activities of the students which involve manufacturing of a specific part, experimental set-up, or any working device. Besides, the machine shop regularly serves in Manufacturing Processes course. Name and model of the equipments/machines in the machine shop and their specifications are listed below.
---
MECHANICAL TESTING LABORATORY / MEKANİK TEST LABORATUVARI
---
INDUSTRIAL ROBOT / ENDÜSTRİYEL ROBOT (Mechatronics Engineering)
---
CAD LABORATORY / BİLGİSAYAR DESTEKLİ ÇİZİM LABORATUVARI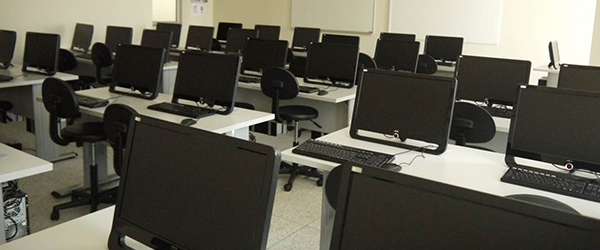 ---
MICROFLUIDIC DESIGN AND CHARACTERIZATION LABORATORY / MİKRO AKIŞKAN TASARIM VE KARAKTERİZASYON LABORATUVARI
Microfluidic Design and Characterization Laboratory in Çankaya University Mechanical Engineering Department aims to provide an environment for analysis, design, and testing of novel microfluidic devices and structures.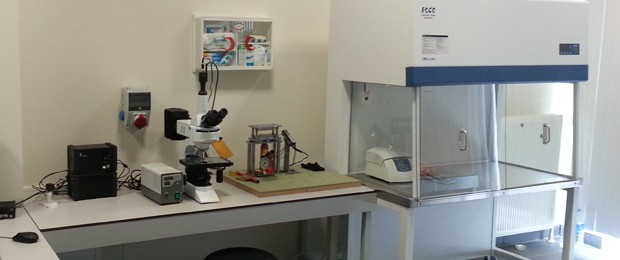 Çankaya Üniversitesi Makine Mühendisliği Bölümünde yer alan Mikro Akışkan Tasarım ve Karakterizasyon Laboratuvarı, yeni mikro akışkan cihazların ve yapıların analizleri, tasarımları ve testleri için bir ortak sağlamayı amaçlamaktadır.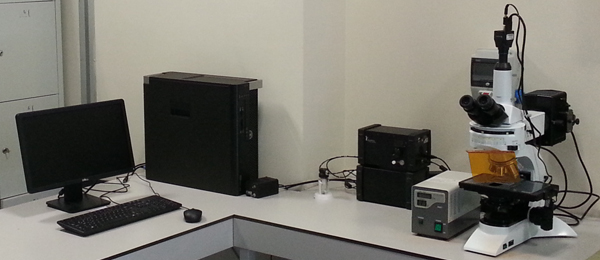 ---
NUMERICAL ANALYSIS LABORATORY / SAYISAL ANALİZ LABORATUVARI
The laboratory contains ANSYS (Finite Elements Analysis Software) and FLUENT(Computational Fluid Dynamics Software) softwares and 15 high capacity work-stations. For the softwares there are both education and academic research licences.
Laboratuvarda, ANSYS (Sonlu Elemanlar Analizi) ve FLUENT (Hesaplamalı Akışkanlar Dinamiği) yazılımları ile yüksek işlem kapasiteli 15 adet iş istasyonu bulunmaktadır. Yazılımların akademik araştırma ve eğitim lisansları mevcuttur.